Taylor Swift made her fans' wildest dreams come true Wednesday night by announcing the release date of her next re-recorded album "1989 (Taylor's Version)."
On the final night of her 2023 Eras Tour within the U.S., Swift surprised the Los Angeles crowd by revealing the next album in the popular series will drop on Oct. 27, bringing SoFi Stadium to a roar.
"I think instead of just like telling you about it, I think I'll just sort of show you something," Swift said on stage, while gesturing to a screen with "1989" printed on it.
The re-recorded album will feature 21 songs, including five unreleased tracks from the vault, Swift wrote on her social media accounts. The original album released in 2014 featured 13 songs on the standard version and 16 songs on the deluxe edition.
TAYLOR SWIFT RETURNS TO THE STAGE WITH EPIC THREE-HOUR, 44-SONG SHOW AS SHE LAUNCHES ERAS TOUR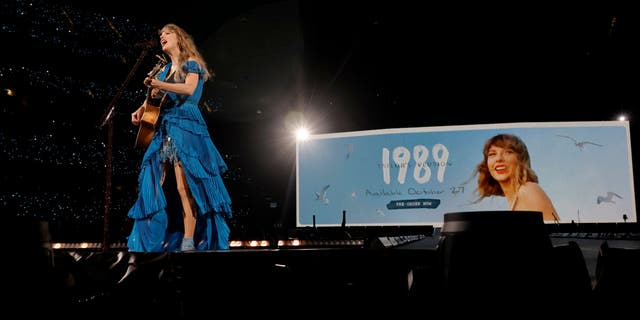 In the announcement, Swift described "1989" – which solidified her transition from a country artist to a pop artist – as the album that changed her life "in countless ways." It won Album of the Year and Best Pop Vocal Album at the 2016 Grammy Awards, and produced chart-toppers "Bad Blood," "Shake It Off" and "Blank Space."
"Surprise!! 1989 (Taylor's Version) is on its way to you [soon]! The 1989 album changed my life in countless ways, and it fills me with such excitement to announce that my version of it will be out October 27th. To be perfectly honest, this is my most FAVORITE re-record I've ever done because the 5 From The Vault tracks are so insane. I can't believe they were ever left behind. But not for long!"
CLICK HERE TO SIGN UP FOR THE ENTERTAINMENT NEWSLETTER
In typical fashion, Swift dropped many of her beloved "Easter eggs" leading up to Wednesday night's announcement prompting her fans to believe "1989" would be the next re-recorded album.
One recent hint in particular came at the end of Swift's "I Can See You" music video featuring ex-boyfriend Taylor Lautner and actress Joey King, who starred in Swift's "Mean" music video as a child.
In the video, Lautner and King help Swift escape from a bank vault into a getaway car, symbolizing her efforts to reclaim the rights to her music. The trio then head toward a bridge with a sign that reads "1989 TV," which set social media on fire.
TAYLOR SWIFT'S ERAS TOUR LEAVES US AFTER MONTHS OF MAKING HISTORY AND CAUSING CHAOS
Proving her albums never go out of style, Swift has seen record-breaking success with her sold-out Eras Tour and the releases of her re-recorded albums since announcing she would be reclaiming her music on "Good Morning America" in 2019. 
The move came after her label Big Machine sold her masters to Scooter Braun's Ithaca Holdings.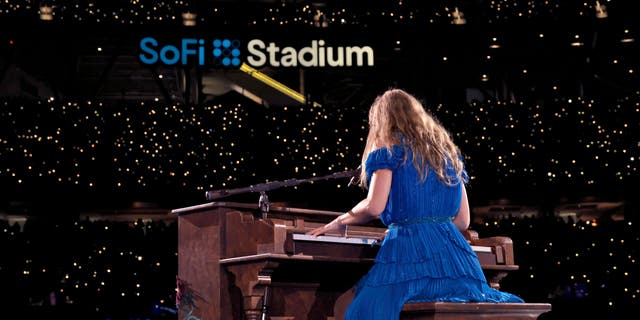 CLICK HERE TO GET THE FOX NEWS APP
The Grammy-winning singer and songwriter kicked off the release of her re-recorded albums in April 2021 with "Fearless (Taylor's Version)," which is a re-recording of her 2008 album, "Fearless." Next up was "Red (Taylor's Version)" in November 2021, which was originally released in 2012.
Swift dropped "Speak Now (Taylor's Version)" last month, which was originally released in 2010. The album was her 12th to reach the top spot on the Billboard 200 – making her the female artist with the most No. 1 albums in chart history.