A Minnesota former GOP donor who was compared to disgraced financier Jeffrey Epstein has been sentenced to 21 years for sex trafficking teenage girls.
Anton "Tony" Lazzaro was found guilty in March by a federal jury of seven counts involving "commercial sex acts" with five girls ages 15 and 16 in 2020, when Lazzaro was 30. 
The charges carried mandatory minimum sentences of 10 years with a maximum of life in prison. Prosecutors had requested a 30-year sentence for Lazzaro while the defense asked for no more than 10 years.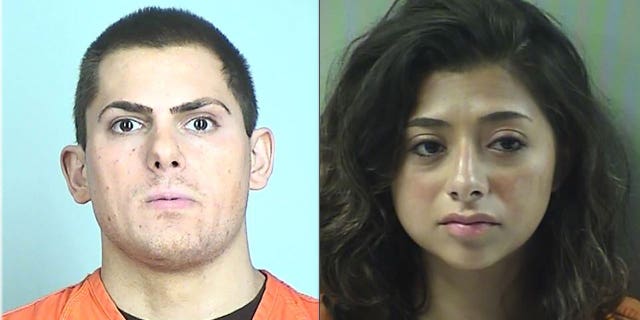 U.S. District Judge Patrick Schiltz came down in the middle and had harsh words for Lazzaro, saying he showed sympathy to only two people during the trial — "to himself and Jeffrey Epstein." 
Lazzaro maintained his innocence, saying the charges against him were politically motivated. He denied having paid any of the girls explicitly for sex. 
His defense attorney Daniel Gerdts said that the government's prosecution was based on "completely unfounded" allegations and was "looking forward to the appeal."
EX-ADMINISTRATOR AT PRINCE GEORGE'S PREP SCHOOL SENTENCED FOR SEX CRIMES AGAINST MINORS
His co-defendant, Gisela Castro Medina, who was 19 at the time, formerly led the College Republicans chapter at the University of St. Thomas. She pleaded guilty to two counts last year. She testified against Lazzaro and faces sentencing in September. 
Prosecutors argued during his trial that Lazzaro enlisted Castro Medina, who he initially paid for sex, to recruit other teenagers — preferably minors — who were white, small, vulnerable or "broken." 
Lazzaro has denied paying for sex, saying the government targeted him for political reasons and because of his wealth. 
Lazzaro's indictment in 2021 led to the downfall of Jennifer Carnahan as chair of the Republican Party of Minnesota. Carnahan and Lazzaro became friends when she ran unsuccessfully for a legislative seat in 2016. He backed her bid to become party chair in 2017 and attended her 2018 wedding to the late U.S. Rep. Jim Hagedorn, of Minnesota. 
Carnahan resigned a week after the charges against Lazzaro were unsealed. She denied knowing of any wrongdoing by Lazzaro beforehand and condemned his alleged crimes. 
Pictures on Lazzaro's social media accounts showed him with prominent Republicans, including former President Donald Trump and former Vice President Mike Pence. He gave more than $270,000 to Republican campaigns and political committees over the years.
CLICK HERE TO GET THE FOX NEWS APP
Several recipients quickly donated those contributions to charity after the charges became public, including U.S. Rep. Tom Emmer, of Minnesota, who received $15,600 but suffered no repercussions. Emmer became majority whip in January.
The Associated Press contributed to this report.