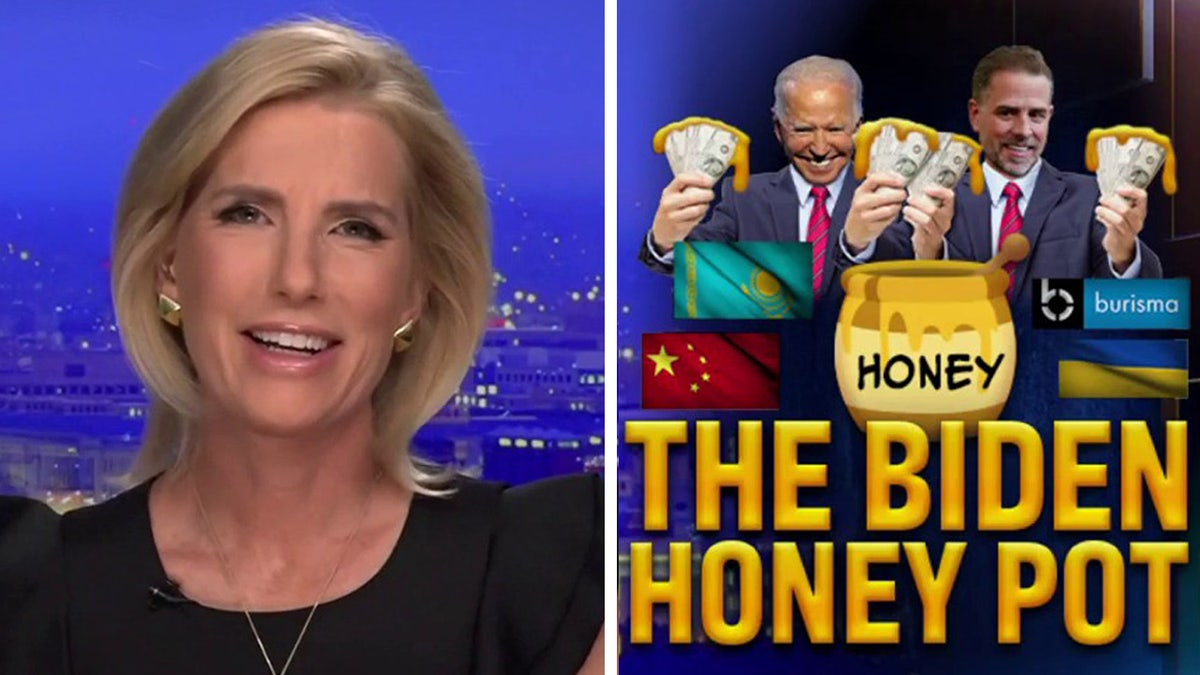 Fox News host Laura Ingraham highlights several payments the Biden family reportedly received from foreign oligarchs Wednesday on "The Ingraham Angle."
LAURA INGRAHAM: Yes, during the Obama administration, if you were a well-known oligarch from the former Soviet Union or one of its old bloc countries, you knew that there was a serious risk that you could be placed on a U.S. sanctions list, and therefore you could be hobbled financially. But some oligarchs had friends in high places, as in the Obama-Biden administration. Meet [Russian] oligarch Yelena Baturina and Kazakhstani oligarch Kenes Rakishev, both of whom somehow escaped Obama's sanctions. How did they do that? Well, I don't know. Maybe they funneled big piles of cash to the family of Obama's V.P. 
BIDEN DENIES $1M IN PAYMENTS TO FAMILY FROM HUNTER ASSOCIATE, DESPITE BANK RECORDS: 'NOT TRUE'
Well, courtesy of the House Oversight Committee, we know that Ms. Baturina paid $3.5 million to a shell company associated with Hunter Biden and Devon Archer and Mr. Rakishev, meanwhile, wired $142,300 to another bank account used by Hunter and Archer. That's kind of an odd sum, I thought. Well, until I realized that the next day, on April 23rd, 2014, Hunter Biden paid that exact amount $142,300 to purchase an expensive new toy, a Fisker sports car. 
But I guess that wasn't flashy enough, so he switched it to a Porsche convertible. Now, who knew Porsches were considered hooker magnets? I didn't. And it gets better. Those same two foreign oligarchs ended up having dinner with Joe Biden in 2014 and 2015. That's just another silly coincidence. And if you thought the White House would respond with a denial, think again. They'd rather insult your intelligence. What again? Well, Biden's deputy comms director, Kate Burner, replied to a Politico piece saying the memo "doesn't show a direct payment to Joe Biden." OK, try to get your minds wrapped around this. 
CLICK HERE TO GET THE FOX NEWS APP 
His communication shop is not denying that the Biden family is bought and paid for by these foreign adversaries, but they want everyone to know that the oligarchs didn't write checks directly to Joe himself. Now, of course, they would dismiss this. I mean, this is no shock to any of us. And what are they going to say? That the House committee's findings are wrong? No. That $20 million in payments from foreign sources didn't go to the Bidens and their associates? Are all the bank records just part of Hillary's old vast right-wing conspiracy, or I don't know are we to believe that Devon Archer, Tony Bobulinski, they were somehow lying when they said that Joe Biden was frequently on calls with Hunter's foreign partners?
For more Culture, Media, Education, Opinion, and channel coverage, visit foxnews.com/media