Jimmy Garoppolo is on his third NFL team after inking a three-year pact with the Las Vegas Raiders, starting a new chapter where he doesn't have to worry about being a backup quarterback (at least not right now). 
Garoppolo may have had 10 starts last year with the San Francisco 49ers in his sixth season with the team – after spending his first three backing up Tom Brady in New England. But, when Week 1 began in the 2022 season, Trey Lance, the team's third overall pick in the 2021 NFL Draft, was the starter. 
Lance, however, suffered a broken ankle in Week 2, leading Garoppolo to take over his starting role that he had since 2019 – a season in which he went 13-3 on the way to a Super Bowl appearance. 
CLICK HERE FOR MORE SPORTS COVERAGE ON FOXNEWS.COM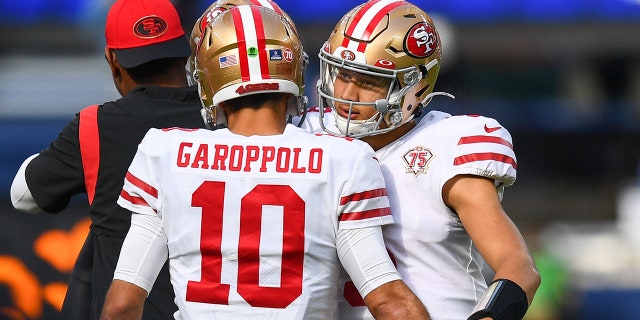 Now with the Raiders, Garoppolo was asked about the arrival of Lance, whose draft capital obviously meant San Francisco believed he was the future – not Garoppolo. 
"Yeah, the (2021 season) was real awkward," Garoppolo admitted to the San Francisco Chronicle's Mike Silver. "That was tougher than this past year, honestly. You're always gonna be dealt a hard hand at some point, and you've just got to make the best of it, and that's what I've tried to do. That was a hard time. But I had some good people around me to lean on. 
JIMMY GAROPPOLO FINALLY TAKES PRACTICE FIELD FOR RAIDERS AFTER MISSING ALL OF OTAS AND MINICAMP
"The brothers in the locker room, those guys played a big role. I don't think the fans always saw all that stuff, but those guys really picked me up when I was down sometimes.
"That's why I love those guys in the locker room. All the crap that we went through for four to five years, whatever it was, we all stayed together in the locker room, and I thought that's what made us such a tight group."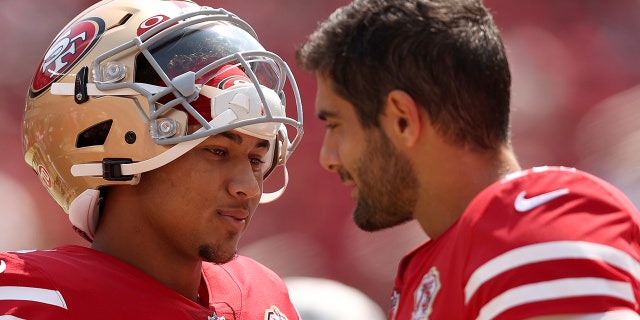 Garoppolo ended with a record of 38-17 as a starter with the Niners, a more than respectable line. But GM John Lynch and ownership clearly didn't believe Garoppolo was their franchise guy when Lance was drafted. He was the stop-gap veteran. 
Garoppolo ended up suffering a season-ending injury himself, which led to Brock Purdy's incredible rookie campaign. Purdy took the Niners to the NFC Championship Game, where he was injured. 
The Raiders, on the other hand, were looking to make a change at quarterback themselves. Derek Carr was ousted and Garoppolo came in on a significant $72 million deal in free agency.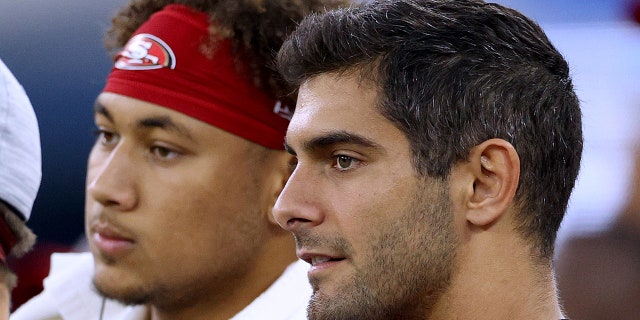 CLICK HERE TO GET THE FOX NEWS APP
While the Raiders hope Garoppolo is the right answer post-Carr, the 49ers find themselves in a quarterback battle with Lance, Purdy and Sam Darnold all vying for the starting role in 2023.