CNN host Victor Blackwell confronted White House Press Secretary Karine Jean-Pierre over spinning President Joe Biden as great for the economy, showing her polls indicating that Americans "aren't very happy" with his economic performance.  
The White House official proceeded to ignore Biden's low economic approval numbers, claiming polls "don't show everything." 
She also noted that the economy looks bad because America just came out of the pandemic and argued that people just haven't noticed that inflation is going down.
BIDEN, WHO SPENT YEARS PAYING WOMEN LESS THAN MEN, SHARES LETTER FROM LITTLE GIRL ON GENDER PAY GAP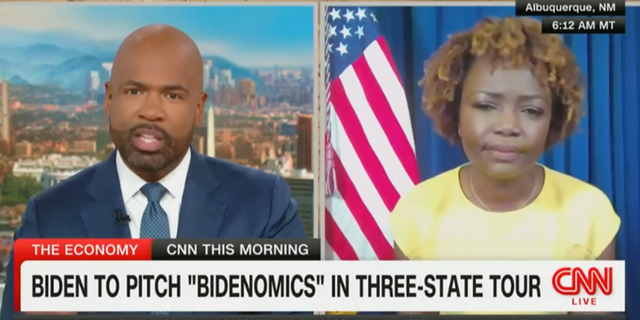 The exchange happened on "CNN This Morning," Wednesday, with Blackwell showing Jean-Pierre the approval numbers for Biden's handling of the economy.
He claimed, "[Biden's] approval rating for his handling of the economy is at 37%, 30% on inflation specifically." The host then asked, "From the White House perspective, why is there a disparity between the good story, the narrative you think you have to tell, and how it's received by the American people."
Blackwell's questions appeared to be a reference to the Biden Administration's assessment that the economy under this president is growing stronger and more stable. The president and his team have touted this success as "Bidenomics."
As Blackwell pointed out, most Americans do not feel that Bidenomics has been good.
Jean-Pierre attempted to brush off the low approval numbers, telling the host, "So, a couple of things, Victor. Look, as we know, polls don't show everything. They don't tell the full story, as you just stated."
She then pivoted to Biden's midterm success, saying, "And you have to remember, if you look at where we were back in the fall of 2022, during the midterm elections when the president delivered a historic midterms for Democrats. When you think about how, as a Democratic president, he delivered a victory that we hadn't seen in decades, right? And he led that messaging throughout those months going to November."
WILL AI IMPACT YOUR JOB? SOME INDUSTRIES THE TECHNOLOGY IS LIKELY TO HAVE MAJOR IMPACTS ON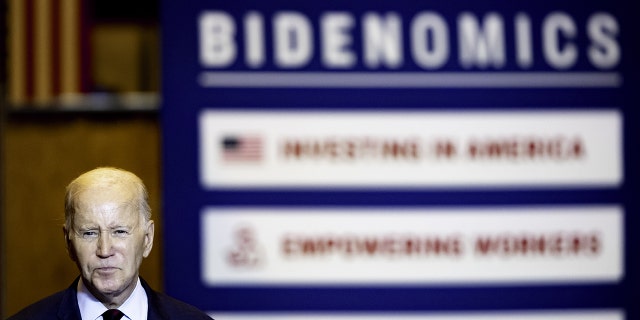 The White House official added that the Biden administration is in "stronger position" than it was then. 
Jean-Pierre followed up by mentioning how the current state of the economy still reflects the damage caused to it by the pandemic, though Biden is repairing it. She claimed, "Americans are coming out of a pandemic. We are dealing with a lot when you think about the economy. But here's the thing, this is a president who has spent the last two years turning the economy around."
She mentioned Bidenomics and how Biden's team is talking to Americans about how "Wages are actually going up, about how inflation is going down over a long extended period of time." She said that consumer confidence is up and again reiterated that polls "don't tell the entire story."
Blackwell then asked the Biden official about her use of the Bidenomics brand in relation to polls showing Americans' disapproval. "We know the polls show that people are pretty sour, at least half the American people are sour on the economy. Isn't that just dangerous getting closer to the election if things take a downturn?"
He asked, "Why literally fuse the president's name with the economics that Americans aren't very happy with?"
Jean-Pierre replied by insisting that Bidenomics "is indeed working," and cited costs going down and wages going up. She added that Biden "understands what the American people have gone, go through, right, sitting at the kitchen table once a month trying to figure out how to pay those bills."
CLICK HERE TO GET THE FOX NEWS APP
For more Culture, Media, Education, Opinion, and channel coverage, visit foxnews.com/media