WARNING: This article contains disturbing details
A lawsuit has been filed against an Atlanta-area hospital after a baby was allegedly decapitated as his mother was giving birth last month. 
Jessica Ross, 20, went to the emergency room at the Southern Regional Medical Center in Riverdale on July 9, after her water broke at around 10 a.m., FOX Atlanta reported. At 8:40 p.m., she was fully dilated and began pushing. 
The baby stopped descending because of shoulder dystocia while being delivered vaginally, meaning the baby's shoulders could not fit through the pelvic area, the lawsuit said. Dr. Tracey St. Julian reportedly attempted to deliver the baby vaginally using different methods, including applying traction to the baby's head.
"In the process of trying to deliver this baby pulled on the head and neck so hard, and manipulated them so hard, that the bones in the baby's skull face and neck were broken," Roderick Edmond, one of Ross' attorneys said during a news conference. 
NEW YORK CITY DOCTOR SHOOTS BABY, TURNS GUN ON HERSELF IN HORRIFIC MURDER-SUICIDE: POLICE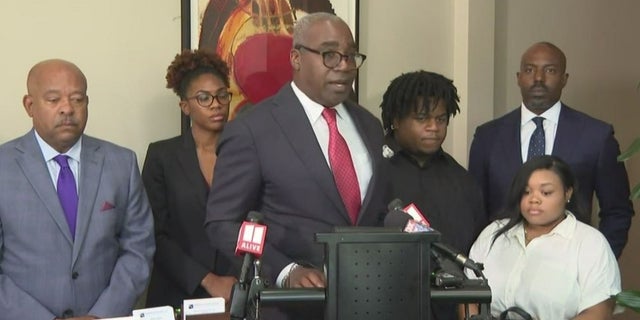 At around 11:50 p.m., St. Julian decided to perform a STAT Cesarean section. The baby's body and legs were delivered at 12:11 a.m. and the baby's head was delivered vaginally. The lawsuit allegedly St. Julian failed to tell Ross and her family about the decapitation. 
It also alleges that the hospital discouraged Ross and the baby's father, Treveon Taylor, from seeking an autopsy, instead telling them to have their son cremated in lieu of taking him to a funeral home. 
A report of the alleged decapitation was never made to authorities, Cory Lynch, an attorney for Ross, said during a news conference to announce the lawsuit. The death was flagged by a funeral home, he said. 
"They did everything in their power to not let the family know what happened," Lynch said. 
OKLAHOMA TRIPLE MURDER-SUICIDE: MOM, 39, KILLS 10-MONTH-OLD BABY BOY, 6-YEAR-OLD SON, 11-YEAR-OLD DAUGHTER
In addition, St. Julian, who is also named in the lawsuit, "grossly negligently applied excessive traction on Treveon Isiah Taylor Jr.'s head and neck and grossly negligently failed to do a Cesarean section in a timely and proper manner, resulting in Treveon Isaiah Taylor Jr.'s decapitation and death," the lawsuit said. 
The hospital told Fox News Digital said it was unable to discuss the care and treatment of patients, citing patient privacy laws. 
"Our heartfelt thoughts and prayers are with the family and all those impacted by this tragic event. Our prayers also remain with the dedicated team of physicians, nurses and staff at Southern Regional Medical Center who cared for this patient," the hospital said in a statement. 
CLICK HERE TO GET THE FOX NEWS APP
"While our sympathies go out to the family, Southern Regional Medical Center denies the allegations in the Complaint referencing the hospital. Since this matter is in litigation, we cannot provide additional statements. As far as Dr. St Julian, she is not an employee of the hospital. The hospital has taken the appropriate steps in response to this unfortunate situation."
The complaint is seeking unspecified damages for the full value of the baby's life, including loss of earnings and loss of enjoyment of life.