Be honest with yourself. Is your content forgettable?
And do you feel like it's time to take your blogging to the next level?
Are you tired of reading online marketing tips yet not getting enough comments, shares, and subscribers?
Well you're not alone.  I mean let's face it. The Internet is full of 'gurus' who constantly contradict each other and leave us readers confused and frustrated.
The good news is, it's not all doom and gloom. There is a right way to blog and go viral. To show you how, I've analyzed three blogs that regularly get 1000+ social shares for their blog posts and I'm going to share with you my detailed insights on how they do it.
Let's begin.
1) The Headline Hook
The headline is what grabs your readers' attention. It has to be so good, that readers won't even have a choice, they'd have to click through to check out what your blog post is about.
I cannot stress enough how important headlines are. Here are three tricks to writing a remarkable headline:
Don't use the first decent headline that comes to mind but keep thinking of more. I thought up at least 10 headlines for this post before I settled for the one I'm using now.
Study the headlines of popular posts from well-known blogs and copy the structure of their headlines (see below).
Test different types of headlines with your audience and see which work best. When you find out,  create more posts with the right type of headline. For example, your audience might prefer list headlines more than how-to headlines.
Here are some examples of great headlines from popular posts on Buzzfeed, Buffer, & Copyblogger:
11 Things That Everybody Made Fun Of But Secretly Loved in 2014 – this could be adapted to

"10 Books That Everybody Criticized But Secretly Read in 2014"

How to Earn $250 per hour as a Freelance Writer – this could be adapted to

"How to Make Six Figures as a Freelance Developer"

14 Recent Changes to Twitter, Facebook and More That Social Media Marketers Need To Know – this could be adapted to

"5 Recent Tax Changes That UK Small Business Owners Need to Know"
Actionable Tip for your next post:
2) Put a face on that image
When I visit Buzzfeed, one of the first things that catches my attention is the sheer number of faces looking back at me. Buzzfeed knows that an image with a face on it (particularly if its looking directly at the reader) is much more captivating than a normal stock photo.
If you don't have lots of images with faces on them, images with cats or dogs work wonders too!
But seriously, if you don't have a captivating featured image for your blog post, at least create a text-based blog post cover. That way, when you share on Facebook, Pinterest, Google+, Twitter, etc… you won't just have a generic stock photo accompanying your post, but you'll have a unique cover photo that helps you stand out.
This is what Buffer does.
This is a screenshot of their Twitter profile. Notice how their posts really stand out!
Actionable Tip for your next post:
3) Make social sharing easy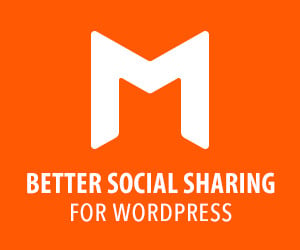 You want your audience to share your content. Fact.
If possible on multiple social media!
So make it easy for them. I mean, really easy.
Here's how:
Put Social Sharing buttons either at the top and bottom of your post, or have floating social share buttons on the side and at the bottom of your post (like I do).
Make sure your social share buttons are big and visible. Buzzfeed does an excellent job of making its buttons really visible.
Ask your readers to share your blog posts for you.
Give them an incentive using WP Sharely.
Stand by your content and be the first to share it. Not many people like tweeting a blog post that's never been shared before.
Use ViralContentBuzz to put your content in front of other bloggers and get a helpful social boost.
Actionable Tip: If you're using WordPress and you want a free plugin, I'd recommend using Social Media Feather. However, if you really want to go viral and make it easy for your readers, then I'd recommend purchasing the Monarch plugin by Elegant Themes (this is what I use).
4) Write a mesmerizing opening and leave your readers wanting more
I know what you're asking. How do I do this? How can I mesmerise my audience?
There is no short answer to this. I am going to give you some general tips, but I'll probably write a more comprehensive blog post about this later on.
Here are 5 tips that most bloggers don't know:
Keep it short. Ideally, your first two paragraphs shouldn't be longer than a couple of lines each.
Work their curiosity. They are reading your blog because they're curious about something. Don't give everything away at once but expand on why they are curious. This will make them even more curious.
Study the greats. Read Copyblogger and Boost Blog Traffic and study how they open their posts.
Avoid stories … unless you're a master storyteller. Storytelling is an art. Unless you're really good at it, you're probably average at best. And since when is 'average' good enough for your blog?
Use the rule of three. The rule of three is a form of iteration that states any idea in threes. Its the shortest pattern possible and we readers love patterns. They

engage us

,

captivate us

, and

keep us reading

(see how I used the rule of three here! Also check my introduction to this blog post as I used the rule of three).
Actionable Tip:
5) Experiment and take risks with your content
The content marketing landscape is constantly changing and what worked two years ago, doesn't necessarily work today.
Should you be using infographics? Should you allow comments on your blog? Should you be using video?
The truth is that there isn't a one right answer for every situation. You need to find out certain things for yourself.
Going back to Buzzfeed, Buffer, and Copyblogger, you'll notice that not all of their content goes viral and that's because they are ready to experiment.
Try things that might not work.
Writing content is like building a startup. You must be ready to fail in order to succeed.
Actionable Tip:
6) Create Content Designed to Go Viral
That's right. Certain types of content are more likely to go viral than other types.
I mean, honestly, did you seriously think that your last 500 word article explaining 5 ways how to [enter mundane task] was going to get thousands of shares?
Here are 5 types of content that go viral, with examples.
Actionable Tip: Why not start planning a piece of content for publication three weeks from now? Make it the most epic piece of content you've written to date. Pour your heart and soul into it. See what happens.
7) Grow a long email list
I don't know the exact numbers, but I bet Buzzfeed, Buffer and Copyblogger have huge email lists.
The advantage of having an email list is that you have access to a list of people who are more likely to enjoy reading your content and sharing it. After all they signed up to receive it in their inbox.
These subscribers can boost your post and give it the social push it needs to achieve the first steps to going truly viral.
I'm not going to expand on this as one could write a book on how to grow a list. If you want to learn more, sign up below as I'll soon be publishing a premium email list building course. Early subscribers get this for free.
Actionable Tip: Sign up here.
8) Build a trusted brand
How many times have you clicked to a Buzzfeed post and left straight at the beginning? I bet not too many times. That's because Buzzfeed material is often interesting enough to keep your attention, but also because you know that if the bit you're seeing isn't really that good, the next bit might be.
After all, you've seen a lot of Buzzfeed articles in the past and they've always been good. That's what your friends say too.
Buzzfeed, Buffer and Copyblogger all have strong brands and this means that when they try something new, more people are likely to give them a chance and go along with the experiment.
If you're getting started, here's a fantastic branding guide for solopreneurs [it involves an opt-in].
Actionable Tip: Go through the guide and see how you can level up your brand.
9) Appeal to a powerful emotion
A lot of viral content appeals to strong emotions. Emotions like awe, anger, anxiety, fear, joy and lust.
These emotions drive actions like sharing and commenting.
Now, I know what you're asking. How do I inject emotion into my writing and make my content contagious?
First, identify the emotion you're targeting. As a general rule, positive emotions work better than negative ones. In a world of bad news, a beam of bright light stands out. One blogger whose posts are often inspirational is Jon Morrow, former editor of Copyblogger.
The second step is to focus on bringing out that emotion throughout your post, but particularly in the conclusion. You want to end strongly so that visitors who have read your post are at a high emotional level.
Actionable Tip: Go through the two-step process above.
10) Stack, Stack, Stack, Stack
My last tip is easy and simple.
Stacking is about putting lots of images or videos under each other to really captivate your readers.
I mean think about it. What gives you more hope? One photo of a person doing a good deed, or this massive article by Buzzfeed featuring 26 moments that restored our faith in humanity (with 50+ photos)?
In that post, Buzzfeed used stacks to tell stories and the result was massive visitor engagement. Personally, I couldn't stop myself from seeing what the next image was about. It's no surprise they got 736 comments!
Actionable Tip: Create a stack. If you don't have access to fantastic images, create one with YouTube videos. They're freely available (and you can ask the YouTube channels to tweet your post too!).
Conclusion: You can do it too!
You don't have to be a big blog to go viral.
If you take action on the tips I shared with you, your next post can get thousands of shares and hundreds of comments. Can you imagine that? It can be hard to fathom, but you really can go viral.
Follow these steps and send me your next viral-worthy blog post. I'll gladly give you feedback on it.
[That's another incentive to take action!]
Finally, sign up below and get insider information, the real juicy stuff I give only to my members. I'll soon be sharing stuff like powerful promotion methods and list building techniques that will multiply your traffic. How'd you like that?!
[hcshort id="8″]
P.S. – if you have a second, sharing this article with your Twitter followers would be a huge help!
I know, I'm shamelessly asking you to tweet my article, but it's easy. Thank you 🙂